Article
Edit
|
History
|
Editors
The Europa Series
Introduction
The Europa Series covers almost the entire World War II European theater of operations in a consistent scale: 16-mile hexes, two-week turns and division-sized units.
The series is one of the oldest series of wargames.
Description of the series:

BGG game family: Series: Europa
Websites dedicated to the series:

Yahoo discussion boards

GDW flyer :

See also later published list Collectors Series.
2. Items related to Europa series
2.2 Europa Play Aids Kits
2.4 Maps published with The Europa Magazine
The Europa Magazine 65 (Vol.XII,No.1)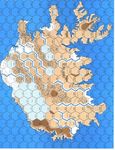 The Europa Magazine 76 (Vol.XIII,No.6)
The Europa Magazine 82 (Vol.XIV,No.6)

4. Chronological Visual Summary
1973


1973


1974


1976


1977


1979


1979


1980


1981


1982


1982


1983


1984


1984


1984


1984


1985


1985


1985


1987


1989


1989 (Strategy & Tactics #128)


1990


1991


1992


1994


1995


1997


1998


2005


?? (maps & counters released only, no rules)

[What Links Here]